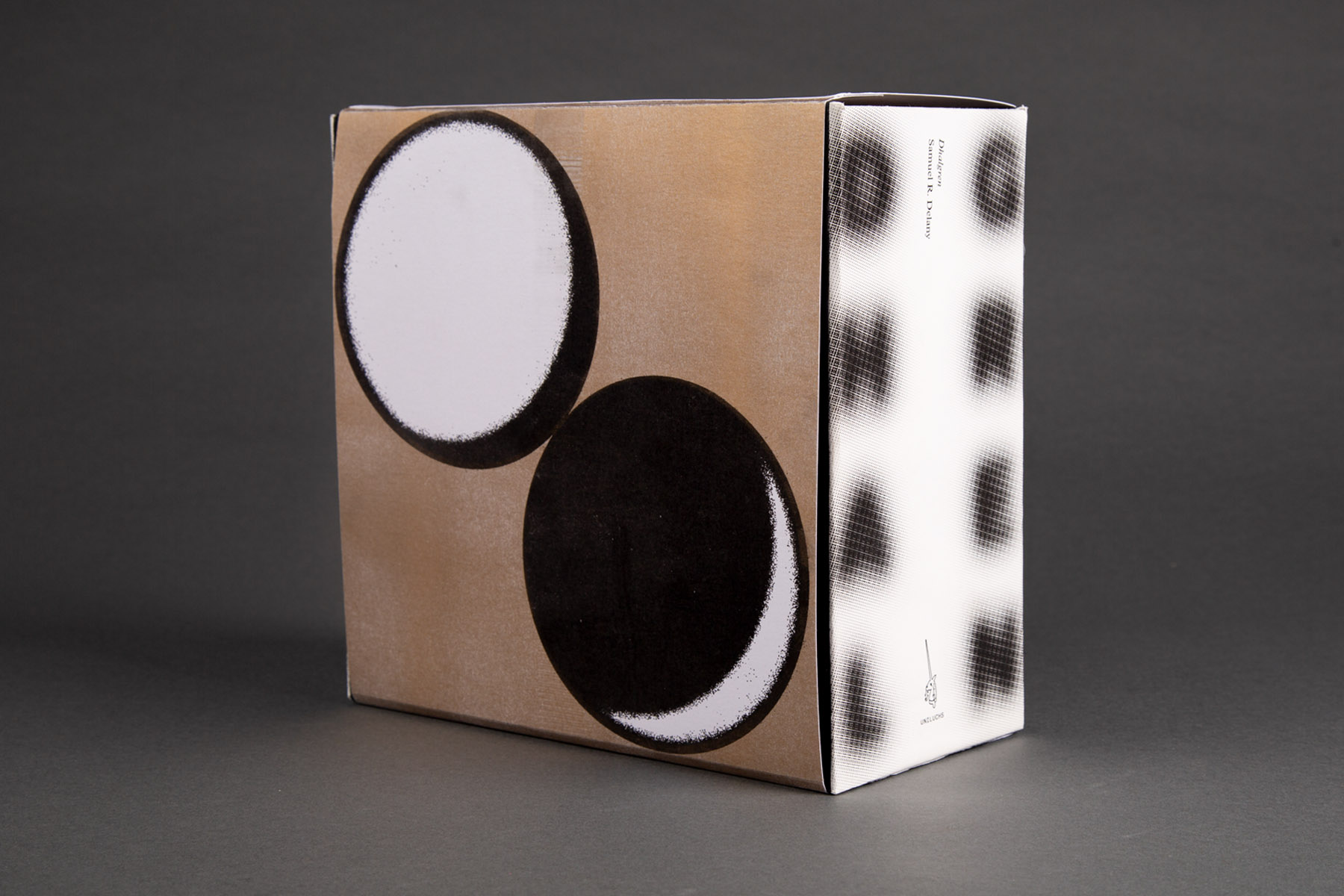 Echo en abyme
Reimagining Samuel R. Delany's Dhalgren


In the mid-1970s, author Samuel R. Delany (b. 1942, New York City) published a monolithic novel,

Dhalgren

, which, after becoming his best-selling work, eventually turned into something of a cult classic. The novel was an ambitious (if not entirely successful) experiment to incorporate the natural degradation of memory into storytelling.
The design, conceived fifty years after this story was written, takes into account how memory has come to be understood now︎, which is a process of constant reiteration and reinterpretation.


---

the question

The story itself functions as an open text and unfolds forever

en abyme

(a book within a book within a book, etc.). Because there's no true past in the story, memory is affected in an interesting way. What does one reflect on if there is no past? As the narrator essentially gets trapped in the present, his world becomes one full of mnemonic reverberations and refractions. As a graphic designer, my question then becomes: How does a story like this look on the page? How does it look as a real object out in the world?

Whether it's for remembering or misremembering, Delany's use of iteration intersects every element of the novel—the syntax, diction, characters, settings, the narrative structure at large.
To further embody Delany's idea of infinity, the book's construction was designed with DIN standards, a spiral or other circular binding, and the removal of covers and front/back matter.

here, words in varying contexts are written twice


The text is formatted to run like a never-ending stream spouting the spontaneous present. The words are practically burning holes in the paper, like they are burning impressions on the narrator's mind. This creates a paradoxical effect in which things that are remembered over and over become less and less clear.


detail

By creating a system of gradations, inspired by my own experiments with legibility and xeroxing, these design interventions mark where elements recur or echo. Such a system was achieved by using a photocopier to overprint subsequent copies of an original print. A copy would be printed and then fed right back into the machine. A digital anolog might be the lossiness of a

jpeg

image that's saved too much. Both of these processes mimic how the brain revisits memories over time. When we recall a memory, it becomes increasingly unclear all the while patterns are formed in the few details that remain, those being the most impressive. These elements of the memory get isolated amongst the more foggy parts and even change based on the context in which you revisit them. In this way, those memories become increasingly false.
3, 6, 12 passes on a desktop copier

The visual qualities of xeroxing mimic memory retrieval while also harking back technologies of the time of the novel. This idea continues onto the risographed jacket and slipcase.
the last and first page



---

jacket + slipcase


All aspects of the typography (where it is found in the text block, the jacket, and the spine) work to generate this seamless effect.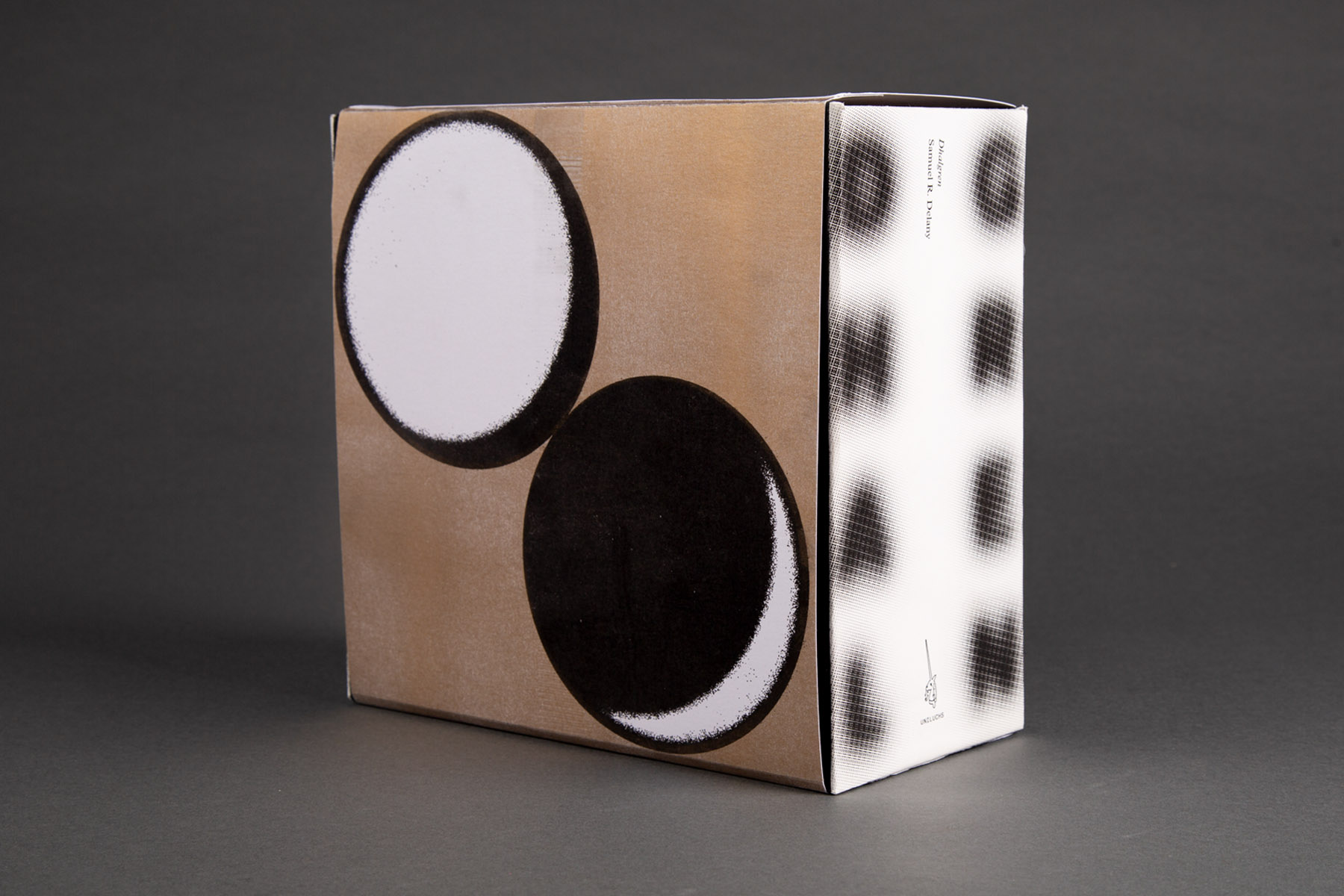 In reimagining

Dhalgren

, the

Echo en abyme

carries on a tradition of experimentation in bookmaking which challenges the limits of books historically as mutable art forms.

Echo

, being somewhere between an artists' book and a typographic novel, continues Delany's experiment with sticking typical linear storytelling within cyclical plots. As such, the book is bound in a double-spiral, there is no cleft in the textblock. The result is a book that grants a truly endless reading experience.

bookbinding, jacket design
laser printed b/w on recycled sketch paper, 998 pages, polyethylene spiral binding
New York City
2019